Eastern Skin Cancer Clinic Explains:


Types of Skin Cancer

The rate of skin cancer in Melbourne is lower than in Queensland, but is still very high in comparison to the rest of the world. This is due to the majority of the population having fair, northern European skin, but living in a sunny tropical and sub-tropical country.

Skin cancer accounts for around 80% of all cancer diagnosed in Australia each year. There are three common types of skin cancer, which are listed here in increasing order of seriousness.

Information on our skin cancer checks in Melbourne can be found here.
Squamous Cell Carcinoma (SCC)
SCC is the second most common form of skin cancer, affecting up to 20% of Australians during their lifetimes. It is a more aggressive form of cancer than BCC and is responsible for over 500 deaths in Australia each year. SCC is often a pink, scaly lump that can grow quickly out of nothing, and be painful.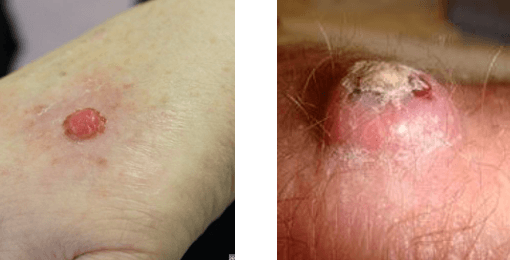 Other Types of Skin Cancer
Basal Cell Carcinoma (BCC)
Protect yourself and your family.
Get a check today!

We are a skin cancer clinic in Upper Ferntree Gully.
Dr. Matt Reid is a caring and highly qualified Accredited Skin Cancer Doctor who specialises in skin cancer diagnoses and skin cancer treatment.
Come and see Matt at Eastern Skin Cancer Clinic today!